"All warfare is based on deception."
The Art of War
, by Sun Tzu, the oldest military treatise, of course, it's Chinese.
As Memorial Day approaches, I'd like to acknowledge, welcome and thank the visitors from Baghdad that have come to Crackpot Chronicles and to assert my support for the troops and all you've sacrificed--even though I think of this war with dread and remorse.
At the Women in Military Service for America Memorial at the end of Memorial Drive near the main entrance to Arlington National Cemetery is an exhibit of portraits,
Faces of the Fallen
, commemorating the men and women who lost their lives between Oct. 10, 2001, and Nov. 11, 2004 in Iraq and Afghanistan.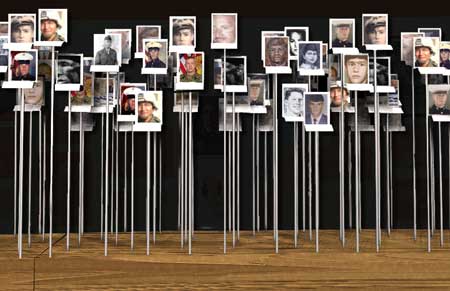 My heart goes out to the families and loved ones of these soldiers who face Memorial Day with loss, sorrow and pride. And I want to remember with honor, my uncles Marcus Widmann and Irving Schnee, who came safely home from war, both doctors, now deceased, who distinguished themselves in World War II,.
From USA Today:

Military bloggers are recording their experiences, reactions, hard realities and raw emotions. Operation Homecoming, a project sponsored by the National Endowment for the Arts (NEA), is encouraging soldiers to tell their stories now, rather than wait for years for a great novelist or poet. Two dozen writers - including novelist Tom Clancy and Mark Bowden, author of Black Hawk Down - are crisscrossing the country, teaching workshops and encouraging poetry, memoirs or any kind of writing that records the experiences. An anthology of the best is planned.
And, coincidentally, I learned that in Berlin, at The Judaicum Center in Berlin's New Synagogue "Art in Auschwitz 1940-1945," an exhibition of some 170 works by 44 concentration camp inmates entitled is set to open.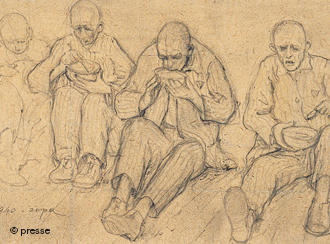 Story here
Art, War, Art of War. They are inevitable facts of pain and redemption in life. I don't claim to understand it, but I am still learning to live with it. Happy Memorial Day. Remember the fallen with compassion and respect.