Thursday, April 21, 2005
We just returned from an 11 day trip to New York to celebrate my mom's 96th birthday with my family. Some of the highlights of the trip and a heartwarming tribute to my quirky and formidable mother are featured on my husband's blog,
The Longbow Papers
(opens in a new window).
I'd like to share a bit of New Yawkish outspokenness. This lovely small building opposite the newly re-opened Museum of Modern Art--mind you a supremely expensive neighborhood for a residential building--has a message, or at least one of the super-rich tenants does. See that colored banner between the first and second floor?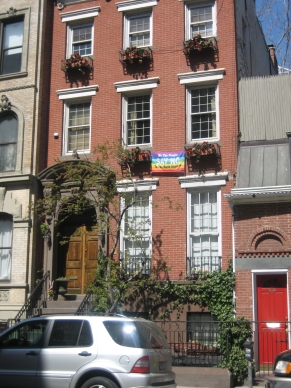 This is what it says: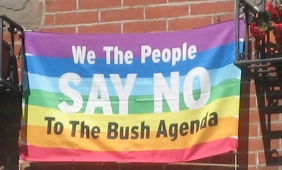 New Yorkers, you gotta love 'em. Well, actually, you don't -- most people don't, but I'm one of them so I appreciate that sass is alive and well in Manhattan, in the spring of 2005.
UPDATE: For more pictures click
here