Thursday, March 31, 2005
Robert Creeley 1926-2005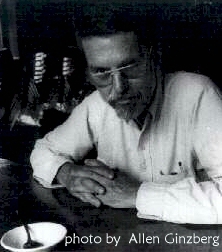 It is with overwhelming sadness and a sense of being adrift that I contemplate the event of American poet Bob Creeley's passing two days ago. I only just got the news this morning.
As a poet, his influence on me is immeasurable and so is my sense of loss. But I also remember his friendship and his antics when we both lived in Bolinas in the seventies, a tiny idyllic coastal town north of San Francisco, then a poet's haven. A long time ago I started an extended narrative prose-poem of Bolinas memories, still unfinished as a literary work and not yet published. Here is the part about Creeley:
***
From Visitations of Bolinas:

12 noon and Smiley's bar just opened
Bob Creeley is in there drinking alone
so I go in
he slaps his crocheted hat on my head, sheepish after
trying to make long distance calls on my phone
when he and my boyfriend staggered in
one foggy night after closing time .
I put it on, adjusted it in the bar mirror w/
a big cheese smile, he laughed, lionesque guffaws
so hard I thought he'd keel the barstool.

I love it when men send me money.
Wintering in Buffalo
Creeley sent a reply to mine w/
a McGraw Hill royalty check for $1.38 and wrote
on the back, "for sweet Ellen Sander but
only in the bar..."
And some other stuff
but neglected to endorse it.
***
Bob wrote the following poem for the Bolinas school graduation 1973, which was held atop Mount Tamalpias. It was a part of the program and he recited it with jazz musician Steve Swallow, also another Bolinas school parent. This has always been one of my personal favorites:
For The Graduation
by Robert Creeley
Bolinas School, June 15, 1973

The honor
of being human
will stay constant.

The earth, earth,
water wet, sun
shine.

The world will be
as ever round, and
all yourselves

will know it,
on it, and around
and around.

No One knows
what will
happen. That

is the happiness
of the circle,
finding you.
***
The circle of happiness seemed so endless and complete the last time I saw Robert Creeley. It was his 70th birthday party at St. Marks Church, home of the Poetry Project in New York's East Village. Some of the brightest lights of American poetry were assembled there. "Allen and Gerard Melanga sat together like a royal couple," I wrote at the time It was also the last time I saw Allen alive. So we come to a parting of the worlds as his soul ascends the final mountain trail. I am grateful for his presence, for the honor and delight of his friendship and for the body of work, still underestimated in my opinion, that he left in our care.
As usual, his words say it so much better than mine
an excerpt from
Goodbye
, by Robert Creeley
did right always have to be so wrong?
I know this body is impatient.
I know I constitute only a meager voice and mind.
Yet I loved, I love.

I want no sentimentality.
I want no more than home.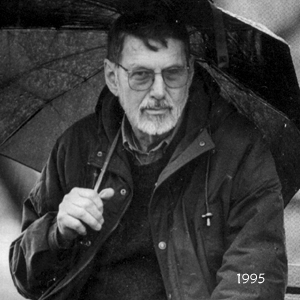 At this moment in my inner life, those are persistently resonating thoughts. Robert Creeley, I wish you well on your journey home. My love and condolences go out to Bobbi Louise, his wife during those Bolinas years, and another vibrant dear friend.
His life was filled with travel, collaborations, mentorships, teaching posts, lectures and of course, beautifully crafted, accessable works.
The New York Times Obit
more at:
http://www.buffalo.edu/news/fast-execute.cgi/article-page.html?article=72130009
http://www.timesonline.co.uk/article/0,,60-1549084_1,00.html
I recommend the memorial thread at
Literary Kicks