Meet the Beatles, Chinese style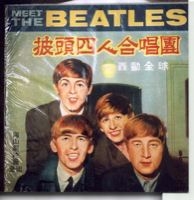 From
tian of Hanzi Smatter fame
, again (tian, I owe you a drink):
I found this great Beatles' album cover at Tony Fletcher's iJamming. There are two interesting details I should point out:
1. Notice all the band member's eyes? They have been changed to make them look more 'Asianized' (and in John Lennon's case, more stoned).

2. The phonetic translation of the band name "beatles", actually means "disheveled hair" in Chinese."
That's one of the Chinese transliterations that makes a lot of sense! Another one is the word for "we" in Chinese transliterates to "women."