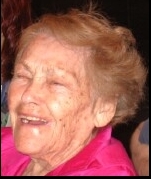 I have always been intrigued by the way colors seem to change depending on what they're next to and the symbolism of mutability. Today, the weather is overcast in the aftermath of gentle Beijing showers. The red roses blush neon in the moist urban grey, a piercing luminosity amidst the subdued surrounding greenery.
My mom is far away in the compact New York apartment she loves, overlooking Second Avenue in Turtle Bay. She's lived there on her own for a long time and has become somewhat of a celebrity in her princely domain. The doormen look after her as if she were their own mother.
The feisty incomparable 96-year-old whose
birthday
we just went home to celebrate last month had what doctors are calling a mild heart attack last week and since being released from the hospital, has had some bad nights. She won't let on that she's frightened because she doesn't want to frighten us. After not being able to keep any food down for a few days, a couple of days ago she woke up with color back in her cheeks, demanded pizza for lunch and ate it with no consequences. Since then, it's been nip and tuck. When I spoke to her this morning, she said "If I'm gonna die, let's get it over with!" That's her, Faye Sander, an inspiration to everyone she knows. But her voice was weak and she couldn't talk for long.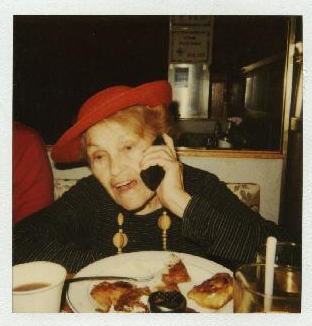 I call every Saturday morning because it's Friday evening in New York; I call to say Shabbat Shalom. It's a habit I got into in the 90s after decades of not getting along with her. With little overt fence-mending or explanation (that never worked for us anyway), after a couple of months, it healed our relationship completely.
At first she was suspicious, wondering if I was trying to chide her for not being a particularly observant Jewess. I don't know where the right words came from—surely the right words had been failing me miserably for years—I managed to say "I just think Shabbat Shalom means to acknowledge Erev Shabbat and see what comes up for you." "I can deal with that," she replied, and things have been wonderful between us since, occasional bilateral snappishness aside—we're still us, after all. Now she'll answer the phone "Shabbat Shalom" on a Friday evening when she knows it's my call and she refers to me proudly as her "Shabbat Shalom daughter."
Shabbat Shalom is what Jews say to one another on Friday evening. (The Jewish Sabbath is on Saturday and all Jewish observances begin at sundown the night before.) It means "peace on the Sabbath." And for this mother and daughter, it's worked a miracle.
Though mom has been almost blind from macular degeneration for the last 20 some odd years, she sees a lot so when she tells me I look beautiful it fills me with cheer. I love when she calls my husband and I, "you kids."
I don't know what to wish for at this moment. Joseph said yesterday "I would have laid money that she'd live to 100." My brother, sister and son look in on her daily, she has help coming in frequently and someone always spends the night with her since she's home from the hospital. I'm back in Beijing, not helping. We don't want to lose her but we know she doesn't want to languish and we don't want her to suffer, either.
The sun is coming out now and the sky is blue with feathery clouds. The red roses have reverted to their cerise impertinence, winking a little with their vanishing raindrops. And I'm feeling grateful and apprehensive as my near-tears intensify the evanescent hues of mortality.
UPDATE: May 25, 8:50 PM NEW YORK TIME:
I just spoke to her. Her voice is brighter, ditto her spirits and she sounded like her "old self." She really seems to be recovering. What a gal! One of her home care workers answered and I can tell she really cares about my mom.
I just recorded a chapter of a book Joseph and I are writing about American Culture for English learners in China. The chapter is about immigration and a section of it is on Ellis Island and in it I wrote about my mom's arrival in 1920 and her return trip in 2002 to record her story for the Ellis Island Oral History project. I told her I'd be sending her a tape of me recording the chapter and that when the book was published, many distance learning students in China would know her story and see her picture. "Something to live for," she said.
I feel more alive today, myself. Thanks for all the messages, y'all.