Friday, October 21, 2005
In a Sept 23 post
here
about the effect of Katrina's devastation of New Orleans' music scene and in particular, the destruction of radio station WWOZ (known as OZ) to locals, I asked you to consider contributing to getting them back on the air. If you did, you did good, it helped! And even if you didn't, I'm
overjoyed
to report that WWOZ is Back On The Air!


WWOZ-FM, a tiny public radio station that serves as a voice of the multihued New Orleans sound and a lifeline for area musicians devastated by Hurricane Katrina, made it back on the air for its first full day since the storm smashed its New Orleans studios. "It's a beautiful day," Freddie Blue, real name Fred Goodrich, crooned from a temporary studio in Baton Rouge. "And it's great to play some music."

"Oz," as the station is known to listeners, has become more than a radio station in the new world of New Orleans, where any link to pre-Katrina life is cherished.

The city's musical community sees the station as its central nervous system, and the news that it was back on the radio dial was cause for celebration.
You can listen online to OZ (sometimes, keep trying, it's worth it) at
http://www.wwoz.org/exile.php
Great jazz, blues and quirky deejays, wonderful community radio. Gumbo for the ears and spirit.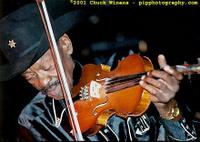 Listening right now to a tribute to
Gatemouth Brown
, who died this week. Deejay said, "doctors said he died of a heart attack, but we know he died of a broken heart seeing what that bitch Katrina did to New Orleans."
Louisiana-born, Texas-raised multi-instrumentalist Clarence "Gatemouth" Brown has been dishing up his unique blend of blues, R&B, country, jazz, and Cajun music for more than 50 years. A virtuoso on guitar, violin, harmonica, mandolin, viola, and even drums, Gatemouth has influenced performers as diverse as Albert Collins, Frank Zappa, Lonnie Brooks, Eric Clapton, and Joe Louis Walker. (excerpt from his bio on the website)
I got to see Gatemouth at the one New Orleans Jazz and Heritage Festival, better known as Jazzfest, that I went to, in 2002. Joseph and I made a wonder-full cross-country drive, from L.A. to N'awlins, coastal Mississippi and points between, to say goodbye to America just before we moved to China, the instigating event of which was Kim and
M.C. Gainey
's wedding at Jazzfest. So many memories...
The Fairgrounds site of Jazzfest, in the Gentilly section of New Orleans was hit hard. (Any excuse to type the name Gentilly.)
Let the good times and the good music rock and roll. Hao Hao New Orleans, it's coming back! Of course.