Saturday, October 15, 2005
I didn't catch this when it first came out, but couldn't resist passing it on. From
Iranian.com
, a web home for Persians in the U.S.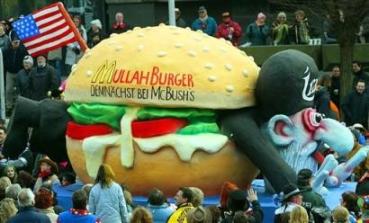 A 'MullahBurger' figure, referring to U.S.-Iranian relations, is seen on a float during the traditional carnival parade in Dusseldorf, western Germany, on Monday, Feb. 7, 2005. Words on hamburger bun read: "Mullah Burger, featured soon at McBush's." (AP Photo/Frank Augstein)
Winning hearts and minds all over the world, shrub.
Giving rectums everywhere a bad name
(Warning: explicit content).
By the way, I really enjoyed surfing
Iranian.com
. They have interesting articles, many in English, and music clips which I enjoyed immensely. I love Persian music, something I was introduced to when I was a semi-pro bellydancer in Los Angeles. I did that for more than 10 years and kinda miss it here in Beijing.