Friday, October 21, 2005
The story's unlinkable without a subscription to
Women's Wear Daily
, so here are some of the more amusing hotspots of the American Magazine Conference held in Fajardo, Puerto Rico noted in a WWD report by Jeff Bercovici. Hundreds of American magazine editors, publishers and executives attend this annual event.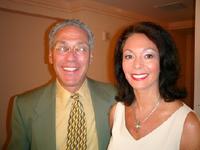 Thanx and a tip o' the byline to my brother, Ken Sander, tech journalist and S.O. of
Marlene Kahan
, Executive Director of the
American Society of Magazine Editors
.
From Bercovici's list of tidbits:
Best Snappy Comeback
: Elle editor in chief Roberta Myers, who watched as Texas Monthly editor Evan Smith dubbed Britney Spears, pictured pregnant on Elle's cover, a "man-made disaster." When Myers got her turn on stage, she pointed out that the issue in question, October, was on pace to be Elle's best seller in 10 years.
Best Bill Clinton Impression
: Time magazine reporter Matt Cooper, who moonlights as a stand-up comedian when he's not busy protecting his sources. At a dinner with Sen. John McCain on Sunday night, Cooper's boss, Jim Kelly, encouraged him to perform his Clinton and George Bush imitations for the table. Kelly stopped short of asking Cooper to do his McCain, [who was in attendance].
Second-Best Bill Clinton Impression
: John McCain. In the middle of a two-hour gambling session, the Arizona senator introduced himself to an attractive young brunette and invited her to join him at the craps table. He soon declared the woman, who was attending the conference on behalf of a Rhode Island-based technology firm, to be his lucky charm, and forbade her to leave while his winning streak lasted.
Best Casual Male
: New York editor in chief Adam Moss, who beat the heat at Sunday night's banquet by wearing jeans and a white T-shirt. The soaring temperatures were no joke; one elderly conventioneer even passed out from heat exhaustion, but quickly came to with the help of tech journalist and former Army medic
Ken Sander
[my brother].
Best Loser
: Playboy editorial director Christopher Napolitano, who shrugged off several hundred dollars in blackjack losses, saying, "I'm lucky in love." The fates rewarded him for his persistence with a winning run at craps that lasted until the casino closed at 3 a.m.
Best Unintentional Pun
: National Geographic editor in chief Chris Johns, who transformed a roomful of grownups into giggling third-graders when he advised against sucking blood from the head of a fighting cock. (He was talking about avian flu, people.)