Friday, November 02, 2007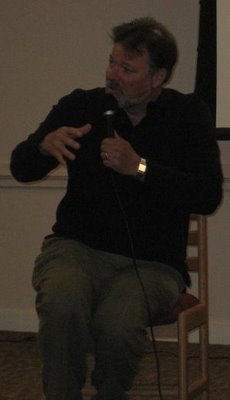 Well the mountain comes to Mohammed once again. It is amazing how hospitable and exciting this area continues to be.
As most people who know me are aware, I am entranced by Star Trek particularly The Next Generation, the TV episodes and movies, by Gene Roddenberry's vision of the future, the ensemble work by the crew of the Enterprise and the fascinating sci-fi and ethical issues they explore. So when the nearby Rockland Public Library announced a series, "Four Decades of Star Trek", I marked my Thursday evenings to attend as many as possible. I worked at the library for a few hours, logged off their wifi and went to the meeting room for the presentations. The highlight was last night, when
Jonathan Frakes
, who, with his family, is a local resident, hosted the TNG night.
Arriving to a round of applause from the intimate (the room only holds 75 people and many were turned away) audience, he was by turns hilarious, thoughtful, revealing and goofy. A bit older, of course, than his Trek character, Will Riker, he is even more attractive, if that's possible, than the babe magnet first officer of the Enterprise D.
He did impersonations of Captain Piccard, referred to Patrick Stewart as "old baldy", dished about Marina Sirtis' (Troi) new boob job and was somber and frank about the backward state of the Maine State Film Commission, which frustrates his wishes to shoot his film and TV projects here. He's just had a new TV series greenlighted and is disgruntled that he has to shoot it elsewhere. He also, in response to a question, did ten minutes on how much he hated the Star Trek uniforms: they had no pockets, they didn't breathe, they pulled up, he hated how they looked when cast members gained weight.
He has directed The Librarian II: Return to King Solomon's Mines, a literary action movie on TNT with an outstanding cast including Noah Wylie, Gabrielle Anwar, Bob Newhart, Olympia Dukakis, and Jane Curtin. Noah Wylie from ER, went to high school in L.A. with my son. Noah was a great kid, and a fine actor.
All in all it was a funny, thrilling evening and two of my favorite episodes of Star Trek TNG were shown on the big screen.
Jonathan Frakes is one of our outstanding locals, who with his wife, intensely beloved soap star Genie Francis, contributes substantially to the community in many ways besides their delightful presence.
I've also been gassed to see Star Trek alumni on some of my favorite current TV programs. Robert Piccardo (the wry holo-doctor on Voyager) was a guest star this week on CSI New York, the gorgeous Jeri Ryan (Seven of Nine on Voyager) is a regular on Shark, and William Shatner (Capt. Kirk on the original Star Trek) is painfully funny as the intellectual Archie Bunker on Viagra of Boston Legal.