Sunday, October 14, 2007
I had the great delight of a visit from another friend from Beijing, Wang Shanshan, a brilliant 25 year old who holds a significant position at a major Chinese environmental improvement organization. We met when she was the top ranking student at China Foreign Affairs College a few years ago and she has blossomed. We had a whirlwind of a time here in the early Fall Color. It was her first time in New England and she fit right in. I won't be the only one here who will miss her and look forward to her return.
After finessing matters business, academic and of the heart in the Boston area, she graced midcoast Maine with her beauty, aplomb and supremely developed sense of humor and fun. We took in the Belfast Art and Poetry Festival, my spiritual anniversary of arriving here. We imbibed Canadian ale at my favorite bar, bounded through shopping sprees, her first Maine lobster dinner and two challenging European movies, All About My Mother, in Spanish, and La Vie En Rose, in French. We were both overwhelmingly moved by La Vie En Rose. And she turned me on to the exquisite version of the title song by Japanese songbird Lisa Ono, very popular among young Chinese cultural sophisticates. One can only marvel at the talent and worldliness of the top tier of Chinese youth, their love for the U.S. and the quality of friendship and savvy they offer our world. To say nothing of the juicy gossip from the Emperor's City.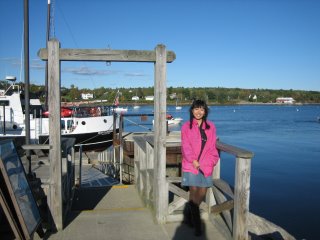 The Poetry and Art festival was a huge success. It occurred on the first weekend after I arrived here last year and it was there I realized that I was truly home. It was a great pleasure to participate this year.
More pictures to come when Shanshan gets back to Beijing. She got some great ones, but left the camera cable at Bill & Margarets.