Wednesday, June 27, 2007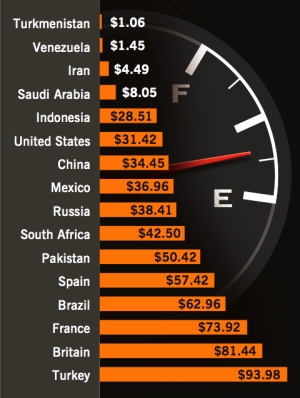 Americans are flinching under gas prices hovering around $3.00 a gallon at the pump. We talk about conspiracies, oil company hoaxes and take it as a bitter pill. But we don't change our consumption all that much, statistics show.
The fact is, we enjoy some of the lowest petrol prices in the developed world. Our gas tax is the lowest in the world.
Foreign Policy
website gives the world cost per filling a 13.2 gallon tank in this graphic. We're the sixth cheapest and most of the cheaper gas prices are in countries that subsidize the cost of gas.
Read the article
, which also has a chart showing gas consumption worldwide. The U.S., no surprise, is first, by a whopping margin: 346.3 millions of gallons per day. Tiny Japan at 41.8 gallons per day is second and China is already third at 35.0 million gallons per day.
These staggering statistics may make you think twice about grumbling about the price of petrol at the pump. It could, and probably will, as time goes by, be worse.
And here's something else to think about: We drink more than 7 billion gallons of bottled water a year--which costs more per gallon than gas! Disposal of plastic bottles and the cost of fuel and other resources consumed in the manufacture and distribution of bottled water takes a huge toll on our environment and economy. So much so that the Mayor of San Francisco, a city which boasts a high quality of tap water, has plans to cut off city funding for the bottled water supplied to the city government buildings, and is encouraging restaurants to stop serving it as well.
In addition to city departments, all city concessions, city-funded events and functions in city buildings will be prohibited from using city money to buy bottled water by July 1. By Dec. 1, all city departments located on city property must switch from bottled water dispensers to dispensers that attach to taps or water pipes and use water from the Hetch Hetchy Reservoir in Yosemite National Park.

...

In 2005, Los Angeles Mayor Antonio Villaraigosa ordered city agencies to stop buying bottled water for employees after the media reported that the city had spent nearly $90,000 on it. At the same time, the city water agency was financing a $1 million ad campaign praising the virtues of what came out of the tap.
This made the national news this week, with the expectation that other cities will follow.
Story here.
Happy guzzling!