Tuesday, April 03, 2007
And the second day Seder was delightful too! I drove an hour to the nearest Synagogue for the community Seder on the second day of Passover and had some most unusual treats! Rabbi Amita leading the Passover Players in the retelling of the Passover story...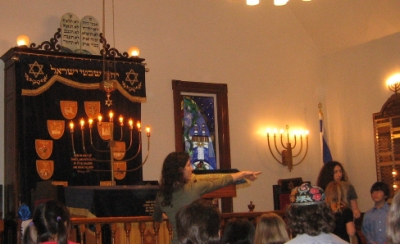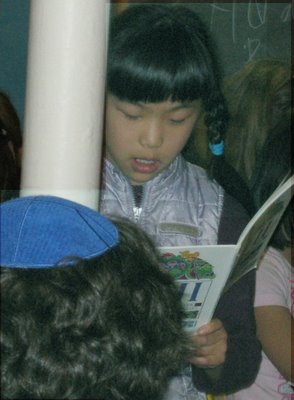 Leah, an adorable Chinese girl, reading the 4 Questions in Hebrew (beautifully) a wonderful meal (I made my potato kugel), and even bubble gum from Israel! In sum, unusual yet traditional, a beautiful ritual of celebration and such a joy.
Anyone want to translate Bazooka Joe for us?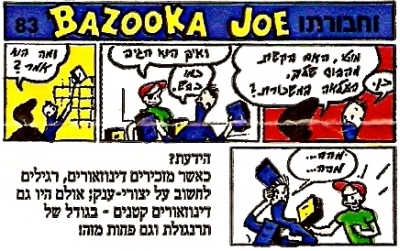 And heeeere's the xlate:
-Motty, did you ask your boss for a raise?
-Yes.
-And how did he respond?
-Like a lamb.
-What did he say?
-Mahhh… Mahhh… (mah in Hebrew means what)
DID YOU KNOW THAT:
"when dinosaurs are mentioned we are accustomed to think about huge creatures but there were also small dinosaurs in the size of a chicken and even smaller"
(toda rabah, YR!)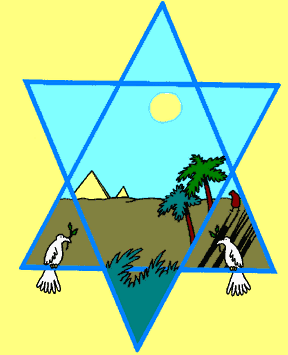 Honor and enjoy these days of spiritual liberation, redemption and rememberance.
With love,
Ellen
Overheard at the Seder first night:
"After you've eaten matzoh for a week, you'll know why they call it the bread of affliction"