Thursday, March 08, 2007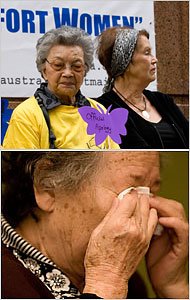 Today the New York Times ran a
major story
on the refusal of Japanese to admit and apologize for wartime atrocities involving sex slavery of Chinese and other Asian women. The story is explicit, even lurid in parts, and censorious. I am so disturbed and moved by this subject that my fingers tremble as I type this post, and my mind gropes in futility for the right words.
This week, Japanese PM Shinzo Abe further euphemized this dark saga in Japan's dark history.
The holocaust the Japanese wreaked when they invaded China is beyond the European holocaust, in numbers and in horrors. The women abused have come forward with their stories. Most of them have died. The survivors are in their 90s and still coming forward.
There is currently a proposed resolution in the U.S. House of Representatives requesting Japan admit to and apologize for its brutal mistreatment of the women. The resolution calls for Japan to formally acknowledge, apologize and accept historical responsibility in a clear and unequivocal manner for its Imperial Armed Forces' coercion of young women into sexual slavery.
On Monday, Abe said private dealers had coerced the women, adding that the House resolution was "not based on objective facts" and that Japan would not apologize even if it was passed. What insufferable arrogance! "Testimony
is
Evidence" reads a placard held by one of the demonstrators in Tokyo in response to Abe's recent statements.
Some snips:
The long festering issue of Japan's war-era sex slaves gained new prominence last week when Prime Minister Shinzo Abe denied the military's role in coercing the women into servitude. The denial by Mr. Abe, Japan's first prime minister born after the war, drew official protests from China, Taiwan, South Korea and the Philippines, some of the countries from which the sex slaves were taken.

The furor highlighted yet again Japan's unresolved history in a region where it has been ceding influence to China. The controversy has also drawn in the United States, which has strongly resisted entering the history disputes that have roiled East Asia in recent years.
and this little bombshell:
Japan's deep fear of rampaging soldiers also led it to establish brothels with Japanese prostitutes across Japan for American soldiers during the first months of the postwar occupation, a fact that complicates American involvement in the current debate.
I urge you to read
Denial Reopens Wounds of Japan's Ex-Sex Slaves
in the Times, and to urge your Congressperson to support this resolution.