Sunday, September 04, 2005
I just love that Cuba and Afghanistan have offered disaster aid.
Wake up to the world, America, wake up to yourself.
I've just heard from one of the brightest and best of the younger generation, my husband's neice, Lauren Ristvet, back from 6 years in Europe, now teaching at Georga State in Atlanta. She said, "I can only hope that the outrageous events of the last week, which have laid bare so many ugly facts about race and class in this country, will serve as a loud wake-up call to people in my generation."
See also
Anne Rice's editorial in the New York Times on Sunday
:
I know that New Orleans will win its fight in the end. I was born in the city and lived there for many years. It shaped who and what I am. Never have I experienced a place where people knew more about love, about family, about loyalty and about getting along than the people of New Orleans. It is perhaps their very gentleness that gives them their endurance.

They will rebuild as they have after storms of the past; and they will stay in New Orleans because it is where they have always lived, where their mothers and their fathers lived, where their churches were built by their ancestors, where their family graves carry names that go back 200 years. They will stay in New Orleans where they can enjoy a sweetness of family life that other communities lost long ago.

But to my country I want to say this: During this crisis you failed us. You looked down on us; you dismissed our victims; you dismissed us. You want our Jazz Fest, you want our Mardi Gras, you want our cooking and our music. Then when you saw us in real trouble, when you saw a tiny minority preying on the weak among us, you called us "Sin City," and turned your backs.

Well, we are a lot more than all that. And though we may seem the most exotic, the most atmospheric and, at times, the most downtrodden part of this land, we are still part of it. We are Americans. We are you.
Good morning America how are you?
Don't you know me I'm your native son,
I'm the train they call The City of New Orleans,
I'll be gone five hundred miles when the day is done.

Steve Goodman, City of New Orleans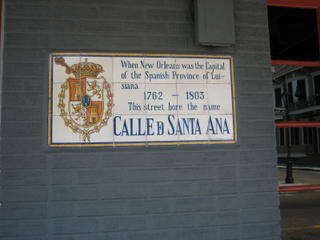 A picture I took in the French Quarter (St. Ann Street) when we visited just three weeks ago.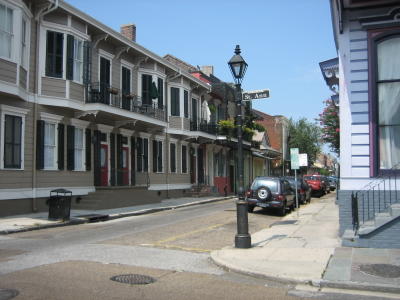 St. Ann Street, August 17th, 2005.