Sunday, February 27, 2005
A glance across today's China news...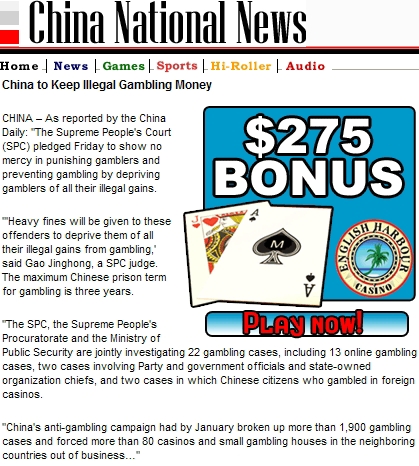 What's wrong with this picture? (prize payable in chips)
♠♠♠♠♠
China, now that it is beginning to understand the implications of piracy and intellectual property violations, is posing a public effort at consciousness raising...Thus, from
People's Daily Online
, February 27, 2005:


"If Beijing fails to solve piracy soon, we will not deserve to host the Olympics in 2008," said Feng Xiaogang, a Chinese director who was recently named the country's proponent of copyright protection.

"This is not exaggerating," said Wang Ziqiang, spokesman of National Copyright Administration, or the state copyright watchdog." Rampant piracy harms people's creativity, and a nation without creativity is a nation without hope."
and then:
Audience of the concert corresponded what Yan [Yan Xiaohong, vice chief of the National Copyright Administration] had said." A copyrighted CD for 200 yuan, pirated one for 10 yuan, what will you buy?" -- someone on stage asked. "The pirated one," answered the thousands of people in the stadium.[Was that an intelligence test? Ed.]
But of course,
"What I want to do is to repeatedly promote the use of copyrighted things," said Feng, adding that if all Chinese watch pirated movies, Chinese films are doomed to be barred from the world's market.