Saturday, February 12, 2005
Taiwan isn't the only island giving the Chinese political heartburn. The little known smattering of islands known as Diaoyutai Islands to the Chinese and Senkaku Islands to Japan, have been a matter of ongoing contention between the two nations that may be coming to a head. (They're known in English as the Pinnacle Islands courtesy of the British, who have no claim on them.) As Asian powers jockey for influence and primacy, these islands have become an active part of the game. Taiwan also has a claim to these islands, which may or may not turn out to be moot depending in the resolution of the intensifying Taiwanese independence/unification squabble between Beijing and Taipei.
A really good article about this from the Christian Science Monitor is
here
.
We're not talking Hawaii here. The islands, too small to be seen on most maps, are used by the U.S. as targets for bombing practice. The dispute is heating up because a geological survey indicated there could be oil in the area.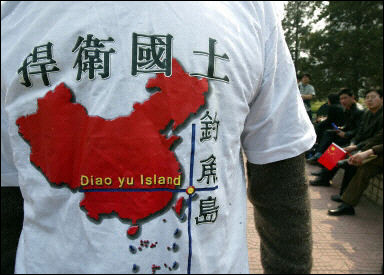 A Chinese protester shows off a protest T-shirt showing where the Diaoyu islands are located during a demonstration outside the Japanese embassy in Beijing. Japan said it had placed under state control a lighthouse built by nationalists on a disputed island in the East China Sea despite rival claims by China and Taiwan.(AFP/File/Goh Chai Hin)