Sunday, February 13, 2005

As the day to celebrate love dawns around the world, new trends, old taboos, sensual pleasure for unattached ladies and crazy love bears provide commentary on love in the 21st century.
Love Message in your Pocket


LONDON, (AFP) - Texting frantically on her mobile phone, teenager Sarah Marks is one of millions worldwide who will send their object of desire a romantic text message on Valentine's Day rather than a traditional card.
Sale of red Roses for Valentines Day forbidden by Saudi
But sub rosa, so to speak they're doing brisk business.


...

Valentine's Day, or the "Feast of Love" in Arabic, is beyond the pale in a country where women must cover themselves from head to toe in public and be accompanied by a male guardian.

"For the last week, we've had no red in the shop," said Ahmed, a flower shop manager. "You can't even have red cards." Despite the prohibition, demand for the banned roses has been strong and unofficial business was booming, Ahmed said
Good vibrations
Meanwhile, back in in New York, The N.Y. Post reports that a traditionally stylish department store is now offering sex toys for ladies:


Take a closer look, and you'll find that these new items from Henri Bendel are all actually well-disguised vibrators.

The newly opened Rykiel Woman boutique, brainchild of Paris designer Nathalie Rykiel (daughter of renowned clothier Sonia Rykiel), is a saucy new section of Bendel's otherwise straight-laced third floor.

And its three sex toys in disguise on display amid high-end lingerie, bustier-clad mannequins and garish pink lighting make Bendel's the first department store on Fifth Avenue with a dildo display. ...But not everyone will be celebrating Midtown's new sexual freedom.

"This is just one more indication of how the moral climate has deteriorated over the last 50 years in this country," fumed Frank Russo, spokesman for the American Family Association.
He should go to Saudi Arabia.
Crazy Love
There was a big flap over this cuddly strait-jacketed love bear, causing it to be removed from the market.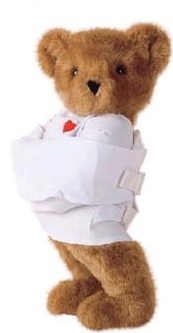 This is the Valentine's day bear called Crazy for You. The bear in a strait jacket comes with commitment papers and is meant to convey out-of-control love. The executive director of the Vermont chapter of the National Alliance for the Mentally Ill said the bear is 'a tasteless use of marketing that stigmatizes persons with mental illness.' ...The company said it had decided to stop manufacturing the bears but would continue selling them through Valentine's Day.
The head of the Vermont Teddy Bear Co. resigned from the board of Vermont's largest hospital Wednesday after coming under fire from mental health activists for selling the Crazy for You bear. Story
at Yahoo News/AP Strange News
. The bears, which retail for $69.95 have been offered on eBay for as much as $175.
♥♥♥
However and with whomever you celebrate it, Happy Valentines Day. I send love to my dear husband, Joseph, and today I also memorialize the birthday of my late grandfather, Fedor Sander.