Saturday, April 10, 2004
Condoleeza Rice wins the Crackpot of the Week award for testifying that a PDB titled Bin Ladin Determined to Strike the US was not enough to go on.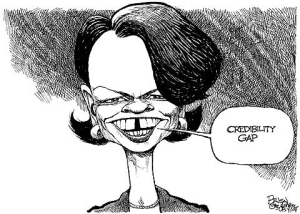 cartoon by
Steve Benson
. If you click on the link you can click through to see some more of his direct hits. Highly recommended.
And the White House itself, imagine that (a building hesitating, it staggers the imagination) gets the Under-Assistant Crackpot Award for this:
The White House on Friday put off a decision on declassifying the document at the center of the debate — the Aug. 6 briefing, titled "Bin Laden Determined to Attack Inside the United States." But the administration appeared ready to release at least portions of the document publicly in the coming days.

reported by the NY Times
.