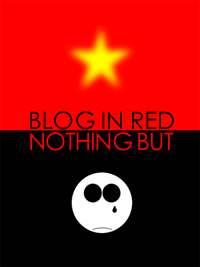 This picture, as well as black backgrounds, have been proliferating among blogs originating in China to protest some Chinese blog sites being blocked. China firewalls sites that it considers offensive, and these blogs, which were recently blocked for politically sensitive content, are in pretty good company: The BBC and CBS news websites have been blocked for a long time for Mao-knows-what. I expect this blog blocking, as noted in a squib
below
, will be temporary, but it's a shame and a canard that its happening now.
Shanghai Eye
posted this poem
An ode to modern times
Blogs shall not weary them
Though they shall weary us
The emblem of truth
Is a black and white booth
Like a monitor that has a period every month
On the 31st of March
We will see all the fuss
Has led to a Taiwanese coup
While we were all out on our lunch
Oh to be a fish
A little fish
To swim a long time
Adieu
And slip into the lost and languid
Purple waters
Of the oft talked about
Huangpu river

Walter Greengage (poet) retired Professor of English at FASTAWAYS Englishy [sic] College, Guiyang
The
LongBow Papers
, my brilliant and prolific husband's blog, has a good background story on this phenomena
here
, with a lot of links that consolidate the issues as they were breaking. It, like all of the items and commentary he blogs, is a great read. There is ongoing commentary on this situation at
Living In China
, which aggregates China-relevant blogs and provides editorial comment as well as a vital community enviornment for us Laoweis and the fascinating Chinese netizens who participate. It's a great project, you'll be glad you checked it out.
I'm not putting a black background (the blogosphere's equivalent to a black armband) on Crackpot Chronicles at this time because I've started a redesign which will take a little time, as I'm teaching myself CSS as I go. I'm pretty handy with HTML, but I realize it's time to get with the program. This skin is an out-of-the box Blogger template with very few mods and I liked it until I saw someone else using it. I'd put so much time and care into co-designing, coding and maintaining The LongBow Papers that when Joseph finally managed to get me to start my own blog, I thought I'd better just get it up quickly before I let it slip by again. I'm glad I did, and the ol' Crackpot will have a new face one of these days, just you wait and see.