Wednesday, December 16, 2009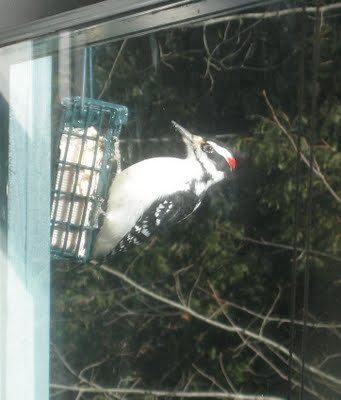 This beautiful male Hairy Woodpecker likes to take his lunch break right outside my window in my line of sight as I sit at my desk. It took me a few tries to catch him in the act. The light had to be just right, and he had to sit still while I reached for the camera I had nearby, waiting for the opportunity.
I am lunching on a cheese bread and Ugliripe tomato sandwich myself.
I spent a bit of time yesterday watching Senate hearings on health care reform -- which is actually health care delivery reform. Our health care is quite good, it's the delivery system that is a huge problem. The delivery system is the insurance industry which inserts itself between the patient and the care with a layer of bureaucracy and more cost than the health care itself. The Republicans try to argue that away. Almost every one of them. And the "progressive" Democrats want to dismantle the entire system without a transition plan. The answer is somewhere in between and they refuse to get there.
I have never really watched porn but I think this must be what it is like.
I believe and hope, I predict that we will get health care reform that does include some kind of subsidy or extension of government managed care. The government does a reasonable job doing this for veterans and the disabled, to name just two programs which, while not free of flaws, are better than the alternatives. But the acrimony raised by the process of formulating reform is, well, sickening.
It's for the birds.