Friday, November 27, 2009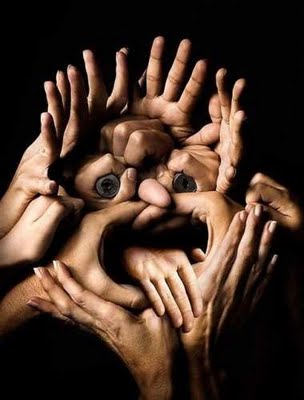 Darkness. The muffled paddle of footsteps. A forest of actors shadow around me and come to a posed standstill. Center stage right. The sound of one heart beating.
Lights.
Focus
Curtain.
Arms arcing, chin level, I aerate my larynx and let my line roll. It hangs in the air, roundly perfect..
Silence. I feel my eyes slide in their sockets. The cast slithers my horizon with venomous looks. The universe suddenly begins and ends at the perimeter of my body. The moisture on my lips evaporates. I stand frozen mid-gesture in place. The floor feels gritty underfoot.
Floor? Underfoot? Where are my shoes?
Oh. Oh
shit
!
I have no clothes on.
The audience clams. At first. Then, pandemonium rampages through the house. Trousers, neckties, garter belts, skirts, hose and shoes fly through the cacophony.
Curtain.
The Director screams in the dark. He's always screaming. He's the kind of screamer you pray isn't screaming at or about you. No doubt about it this time. My fists plunge into my face, pressing my cheeks over my eyes. Please just let me disappear.
I hear a trickle. I pick my head up into a softly clinking window-lit hubbub. I am seated, fingertips curved limply in my lap. Above, tin ceiling, below, tiled floor. Shoes. On the table in front of me, a bowl of chicken rice soup is getting cold. Pudgy white dinner rolls next to a wrapped pat of butter. A newspaper folded open to a Help Wanted page with some listings circled in blue ink. Chunky white flecked coffee mug. Waitress is pouring a refill. She calls me "hon."
Labels: Fiction