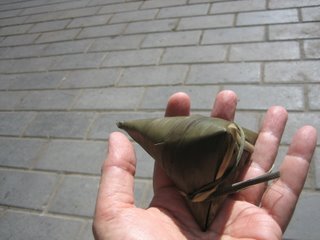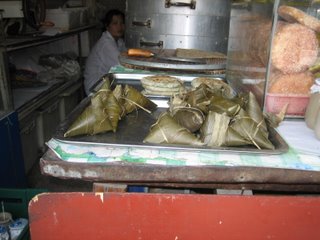 This is zhongzie, I usually have one or two for breakfast, with tea cooked egg or fresh local yogurt or warm fresh soy milk, sometimes some fruit, all from Beijing street stands. Inside the bamboo leaf of the zhongzie is sticky rice with some sweet stewed dates in the center. It is delicious beyond words, perfectly filling and less than 15 cents.
Beijing was the last stop on my trip through Asia, and I took these pictures knowing my time there was drawing to an end. It's exciting and poignant to be back in Beijing on my own. I lived here for 3 of the almost 4 years I lived in China, departing for the home land almost exactly 3 years ago.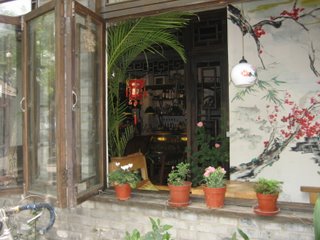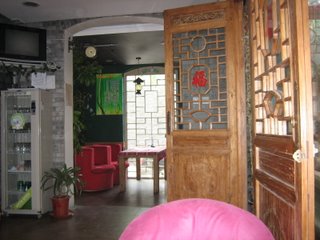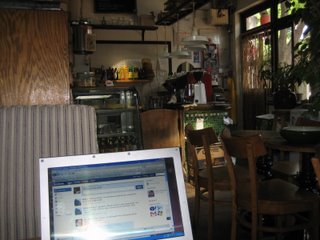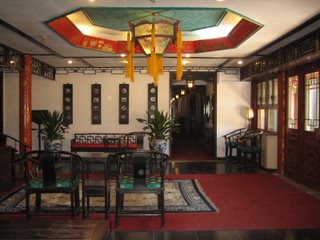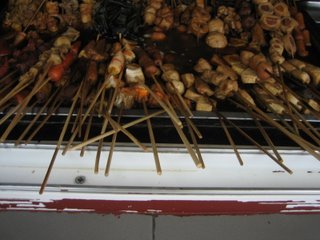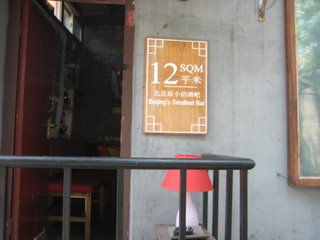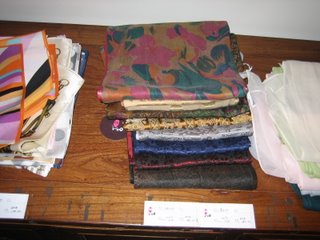 I'm revisiting friends, my fonder memories, and enjoying the neighborhood I'm staying in, living a life I didn't get to have when I was here. I'm staying in a partially gentrified and almost fully restored hutong, one of the warrens of ancient stone alleyways that courses through the interior of The Emperor's City.
When I was living there they were knocking hutongs down right and left to modernize neighborhoods. (Some of them did not have indoor plumbing or proper sanitation, others had the misfortune of being in the way of high-value real estate developments.) But some of them are, thankfully, being refurbished and modernized without losing the original architecture.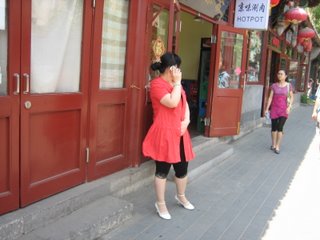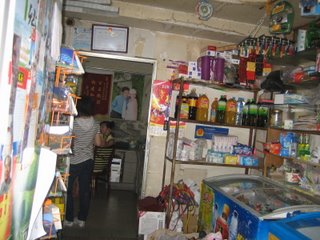 My hotel is a Chinese courtyard home, a series of rooms facing courtyards connected by halls and breezeways, very comfortable, with TV and a/c in the room and wifi in the Tea House. In the hutongs around me are boutiques, galleries, cafes, restaurants, snazzy bars and more traditional side lanes where Chinese live and tend small shops. Walk outside the hutongs and there is real Chinese street life, wide, highly trafficked streets, billows of exhaust fumes, throngs of Beijingers on purposeful travel, on bicycles, awaiting busses, workers steering loaded pushcarts or working in small stores with their Beijing mojo on. Chinese work harder than any people I've ever seen. Banks, ATMs, Chinese pharmacies, China Post, and people, people everwhere. This isn't a high rise district, and hopefully won't become one.
We're near Hohai, a park on a pair of lakes that I used to love to stroll, but it's gone past it's prime somehow, it felt "used up" when I went back there to find my favorite Beijing "thinking place" Yinding Bridge.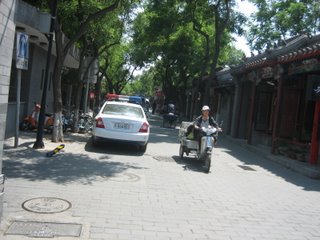 I find no significant change in Beijing since the Olympics, except the yuan has been revalued, rendering the dollar 20% less than when I was here. Even with that China's still a phenomenal bargain if you know where to shop and eat. The people are still amazingly industrious, most everything is still open 7 days a week. Most of the people I know, Chinese and foreigner alike, are still working, but all the freelancers now have or want full time jobs and regular paychecks. The global economic downturn is always referred to in Chinese media, and always with the coda "which is America's fault." What can you say, they're right! Be that as it may, the economic downturn made the unbelievably inexpensive flights to Asia and home possible.
There's such a difference between the Bangkok Thai and the Beijing Chinese. Thai don't have the opportunity or pressure of rapid economic development and they grow up with siblings. This makes a huge difference in their outlook and interactions. Beijingers are more focused, busy. Bangkok Thais are more easygoing, humorous, fatalistic.
It's been hot in Beijing, city-hot. The breezeways in my courtyard hotel and through the hutongs help but only mad dogs and Englishmen go out in the noonday sun. I'm writing this relaxing and blogging in a cafe on Nan Luo Gu Xiang after a Chinese breakfast, sipping a well turned latte (you say latiah here) under a ceiling fan. Later, a pedicure and leg massage, maybe a duck dinner. It's a tough life. It's good to be back. Something I'll be doing again and again.
***
So at that point I was going to upload this blog but rudely discovered that blogger dot com was blocked in China! Ah, the Chinese net nanny. That's China! I'm now back in New York, popped awake at 4:30 by jet lag, seeing the morning up till my brother wakes up and we'll have a nice American breakfast. No zhongzie.