Arthur.
It's hard to imagine life without you.
Arthur. How can you be gone?
A part of my heart dies with you.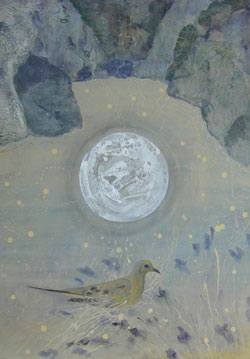 Birds Over a Rice Field
--for Arthur Okamura
(Sept 27, 1973)
Birds over a rice field
one
two
three
Impossible starlings
each a plane apart.
He makes thermals occur
on paper, I tell you
like Marcel Marceau
he has birds
disappear which
were never there
in the first place.
Ellen Sand
er
Obit here

Arthur made a kite of toothpicks and tissue paper that flew. Arthur gave me HD for my birthday wrapped in paper that had his handprints on it. I don't know what happened to the book, but I still have the paper. Arthur did some illustrations for my Interview With the Universe, still unpublished. Arthur picked up a piece of tube kelp on the beach, cut a hole in it and played it like a rams horn trumpet. Arthur could deliver the funniest line deadpan and drop a whole table full of people. Arthur was in an internment camp when he was a child. Arthur sat Zazen for over a week. When I was in Arthur's studio it seemed like a shrine of some kind. He said it's not hard to paint. First you decide what you want to do and then you just do it. Arthur painted monarch butterflies on the wall of the Bolinas Store. When the monarchs no longer swarmed on Terrace Ave, they moved up the mesa to another eucalyptus grove closer to Arthur.