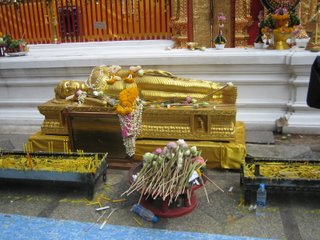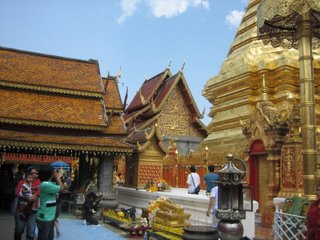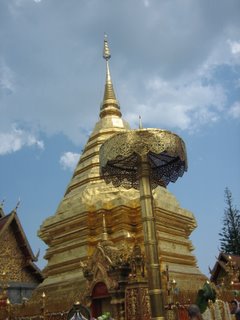 Wat Pratat Doi Suithep is visible on the mountainside overlooking the city of Chiang Mai, in the north of Thailand. At night it's golden chedi glitters in the lights, a spiritual guardian of the region.
Legend has it that a monk on a pilgrimage to the kingdom of Lanna had a dream and when he awoke, he began digging and found a relic which contained a small bit of ashes that were green. He knew he'd found ashes of Lord Buddha. He brought them to the king in Chiang Mai who realized he was supposed to build a temple to entomb the ashes. But he didn't know where to build it so he set his white elephant free to find it. The elephant climbed the mountain and walked a circle in the rain forest, pounded his trunk on the ground and died. That is where the king erected Doi Suithep and entombed the sacred ashes of Lord Buddha.
When you enter the temple there is a powerful feeling of spirit and kindness. Women must cover their arms and legs entering a temple and all must remove their shoes. You can feel ancient reverence connecting through your bare feet, moving up your body, shimmering in your heart, quieting your mind, filling you with joy and serenity. The moist beauty of the surrounding rain forest resonates.
The day I visited Doi Suithep was, by happenstance (perhaps my blessed luck) a particularly holy day. It is believed that Lord Buddha, as the Thais know him, was born, reached enlightenment and died on the fifth full moon of the year, Visakha Bucha Day. The whole weekend Thais were worshiping and performing rituals at Doi Suithep. It was a sublimely gratifying experience. When I made my offering I didn't ask for blessings, I gave thanks for them.