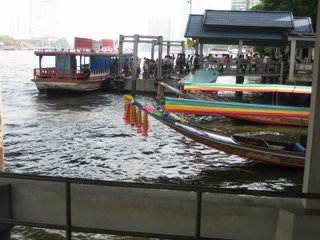 I'm in Bangkok, Thailand. I have friends who live here. It was mud season in Maine, the only time of year that it's not gorgeous. I jumped on a very cheap airfare and here I am after a 27 hour flight (2 stops). It's green, it's steamy, it's exotic, it's sublime. These smiling gentle Thai people, the fabulous food, the massages, the markets, the spirit houses, the sky train and river taxis intrigue and enthrall me. I've seen the golden reclining Buddha, the Temple of Dawn, even caught a glimpse of the king as his motorcade made it's way into the Grand Palace for a celebration of his 60th year on the throne. As he passed the crowd of street vendors and monks made a sighing sound. He is much beloved. This is a free country, but you'd better not insult the king.
I went to the cinema this morning to fulfill a ritual of seeing the opening show of every Star Trek movie wherever I am. (I couldn't do it for Nemesis; I was in Beijing and couldn't find a showing.) After the trailers and before the main feature the screen said: "Please pay respect of the King," and every one stood up for a short retrospective film about His Majesty King Bhumibol Adulyadej.
I was sitting in the plush cinema at 10:45 AM with only a few others. Tenth row center, plenty of leg room, I had both padded armrests to myself. I drank an icy Coca Cola as I waited for the film to begin. This, I'm thinking, is really a moment. A culture break in Southeast Asia. Star Trek in Bangkok. Does life get any more special than this?
Without spoiling it, let me say that XI is the sexiest Star Trek yet (yes even more than the Insurrection bathtub scene) and would you believe Spock and Uhuru get kissy? (But Kirk hit on her first.) This is never explained or resolved, but it's certainly a one-eyebrow lifter. It's funny, full of action, maybe too much action; I didn't realize I'd been holding my breath until I exhaled. There is never a dull moment nor a wasted frame. And at the end you realize space is not the final frontier at all. This is a prequel to TOS. The origin and evolution of the characters of and relationships between the bridge crew of The Enterprise is masterfully nuanced. The way the plot insinuates the time line, the franchise can go on forever without colliding with any established groundwork.
And when the movie ended, I went out into the Bangkok day, savoring every moment.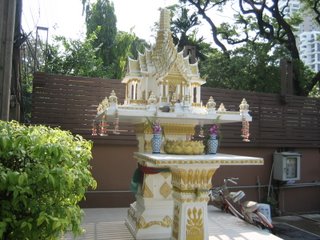 This is a spirit house. You see one in front of almost every building complex. It is there to collect malicious spirits so they do not go into your house. There are offerings of fruit, gifts, incense and little garlands of flowers. Fresh flower garlands hang from the interior rear view mirrors of taxis, around statues of the king or of deities and on doorknobs. Fruits and flowers abound, luscious ripe tropical fruit from stands on the street or in markets. They have a dish I have come to love: sticky rice and mango. It comes with a little container of coconut milk to pour over it. "Takeaway" Thai food is an art form. You can get it any hour of the day or night.
I'm visiting friends here. They have introduced me to the money, the public transport a few local sights and then I took off on my own to see many more. I've come to appreciate the difference between North Asia, where I spent almost 4 years in China, and Southeast Asia. I will be back time and time again.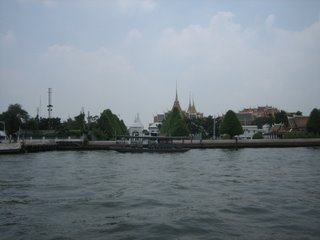 This is golden spires of the Grand Palace seen from the river taxi. So far my favorite market is between the boat pier and the palace. That day I had crispy catfish with vegetables and glass noodles over rice for lunch. And Thai iced tea to drink. I bought another puppet for my Asian puppet collection at the market and some small gifts for friends and family.
I'm going to sign off now. Tomorrow I take a weekend side trip to the mountains. Then back to Bangkok for a day and on to China for a while.