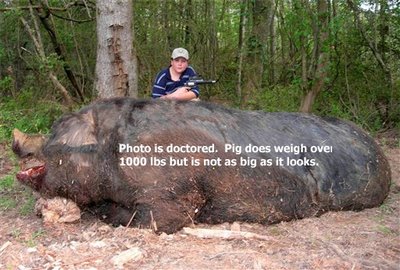 See
StinkyJournalism-Hogwash!
for an analysis of how this photo was doctored to make the pig seem bigger than it was, and a continuing report on how many major news sources were duped.
An 11-year-old Alabama boy used a pistol to kill a wild hog his father says weighed a staggering 1,051 pounds and measured 9-feet-4 from the tip of its snout to the base of its tail. Think hams as big as car tires. ...

Jamison Stone, who killed his first deer at age 5, was hunting with father Mike Stone and two guides in east Alabama on May 3 when he bagged Hogzilla II. He said he shot the huge animal eight times with a .50- caliber revolver and chased it for three hours through hilly woods before finishing it off with a point-blank shot.

With the pig finally dead in a creek bed on the 2,500-acre Lost Creek Plantation, a commercial hunting preserve in Delta, trees had to be cut down and a backhoe brought in to bring Jamison's prize out of the woods.
from AP via
Breitbart.com