Thursday, January 04, 2007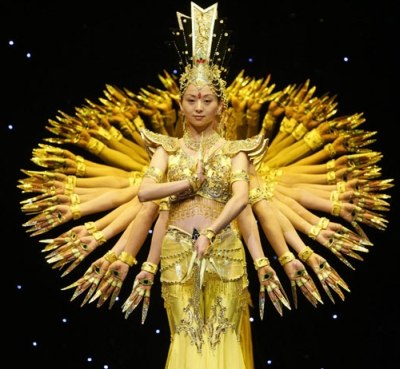 Reuters circulated this lovely picture today, showing dancers from the China Disabled people's Performing Art Troupe in dress rehearsal in Madrid. The dancers are deaf. I saw this piece when I lived in Beijing, on one of the schmaltzy CCTV extravaganzas, and we did a piece on the troupe when I worked at Women of China English Monthly in Beijing. I'm so glad they're getting the worldwide play and recognition. This really is a precious piece and all the more elegant considering the dancers' disability.
The video is more than 5 minutes long, but even if you can only spare a minute, it's lovely.
If you can't see it here you can
watch it on YouTube
Chinese contemporary arts are really geting a lot of long overdue attention. In today's NY Times,
In China's New Revolution, Art Greets Capitalism
, on the binge market for Chinese contemporary art, dominated the Arts section.
"What is happening in China is what happened in Europe at the beginning of the 20th century," said Michael Goedhuis, a collector and art dealer specializing in Asian contemporary art who has galleries in London and New York. "New ground is being broken. There's a revolution under way."

[...snip]

Some critics here say the focus on prices has led to a decline in creativity as artists knock off variations of their best-known work rather than exploring new territory. Some are even employing teams of workers in assembly-line fashion.

Christopher Phillips, a curator at the International Center of Photography in New York, has become a regular visitor to China, scouting young artists for the center and other places. On a recent trip "I went to visit the studio of a well-known Beijing painter," Mr. Phillips said. "The artist wasn't there, but I saw a group of canvases being painted by a team of young women who seemed to be just in from the countryside. I found it a little disconcerting."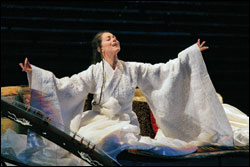 Zhang Yimou's long awaited opera,
The First Emperor
, opened at the NY Met to unfortunately
lukewarm reviews
in December. There were great expectations, it was a decade in the making, with Placido Domingo in the first role he created, and music by Tan Dun. Everyone wanted to love it, there was much praise in the run-up to the show but opening night reviews said it fell elaborately flat, though it had fascinating aspects. It was still a proud and ground breaking opening for the Met. It is likely there will be some rewriting and restaging before it goes on tour, the talent pool for this production is nothing short of lavish.
And not so coincidentally, just last night a piece on how traditional Chinese opera is vanishing aired on NPR radio. Beautiful Chinese art is now everywhere you go, look and listen and the Western world of aesthetics is all the better for it. And me, I feel like China has followed me home and I couldn't be happier for it.