Friday, August 25, 2006
An osprey soars over the lagoon with a fish in his talons as the aroma of sausage on the BBQ begins to unfurl in the dwindling daylight.
I am in B*lin@s, the town whose name must be published furtively, lest the Border Patrol get its hackles up. I am fixing up my house and garden,which are now recovering nicely now from getting hammered in the winter rains, the worst in years if not the worst ever.
This is one place where blackberry doesn't necesarily mean a handheld wifi device. Blackberry bush grows almost uncontrollably all over this misty rural hamlet and the berries are just starting to ripen. It's magical to pick and devour a handful of blackberries on a walk down a country road. But its a hassle and a half if you have property because its so invasive. It grows into nasty thorned bushes, which if you don't clear them every two years, will eat your fence and yard alive.
I've been working in the yard while carpenters and plumbers work on the inside and outside of the house. Living with demo and repair is always chaotic, but I have long walks, the tidepools and the ocean to soothe me, now that my broken toe is healing. And a snug writing studio to stay in, surrounded by memories and unique beauty.
I was overjoyed to welcome film producer, director, actress and writer Luo Yan and her husband, publishing magnante Hugo Shong who drove all the way from Carmel to see me. We had a robust brunch at the local cafe. Here we are,in the middle of Wharf Road, me in my work clothes, they in their urban causal fines and a puffy blanket of fog resting on B*lin@s Ridge across the lagoon in the background.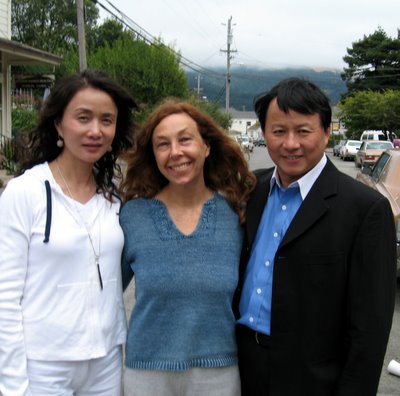 A part of me lives here and always will, no matter where I go.