Wednesday, July 26, 2006
First stop in the city of the angels after a sunrise flight from New York: Sunset Ranch, a riding and boarding stable in the hills under the Hollywood sign, where I was brought to meet dear friends poet, playwright and screenwriter Cynthia Walker and femme fatale Millicent Sheriden. And there I met the family riding stock: Miss Mardi Gras, a 3 year old paint mare, the last one bred by Cynthia's father in Mississippi. Zeus, a sturdy tall and muscled horse is David Sheffield's studly steed, and Diablo is Millicent's horse. Millicent and Cynthia are members of the
Hollywood Dolls Horse Club
founded to benefit the children and horses in need in Los Angeles County. Click through to their website to see some wonderful pictures and
read the poetry
. Wherever Cynthia goes, there is poetry.
We sat at a cliffside table after their ride, catching up and admiring the horses. I then learned Millicent's new L.A. colloquialism, "blond" which now is a pejorative meaning moronic. When I was failing to properly deploy a lighter in the wind, Milli let loose with a throaty cackle and "C'mon, Ellen are you going blonde on me here?" I started to explain my lighter hair color when she exploded in laughter again.
We chatted, dished and laughed together a while, the morning breezes and shade soothing the heat wave. In the conversation, "blonde" was used a half dozen times to denote diminished mental capacity exhibited in behavior of either gender.
As we walked back to the cars, Cynthia paused and slipped an elegant leather notebook out of her bag and opened it, revealing a small green sprig of yellow flowers between pages of fine paper. "Wild Anise" she said. It's the title of a screenplay she wrote about she and Millicent riding together through the hills of Hollywood, now optioned and in production. What a welcome to L.A.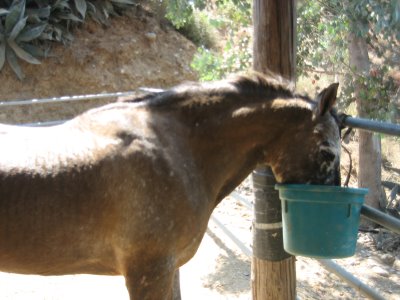 Millicent's Diablo having a snack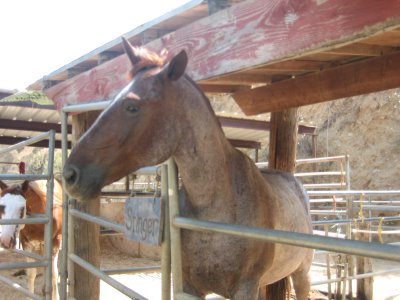 David's Zeus, being majestic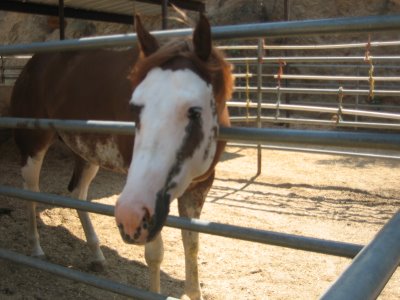 Miss Mardi Gras is Cynthia's inquisitive Paint