Saturday, June 17, 2006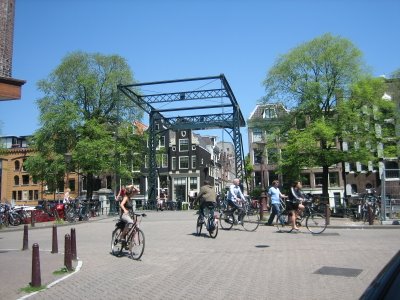 Most days are overcast and hovering about the dewpoint like on the video in the previous post, but on the rare days when the sun shines and the sky is blue, like Seattle-ites, who have about the same weather, the people of Amsterdam go out and enjoy it. The city is filled with elegantly rustic small older (15th --17th century) brick buildings that have been renovated and it has a snug old-town feel.
Everyone in the various circles of activities and interests knows one another, it's quite diverse but socially tight. It has about the same population as San Francisco. John Sinclair is living here and podcasting Radio Free Amsterdam.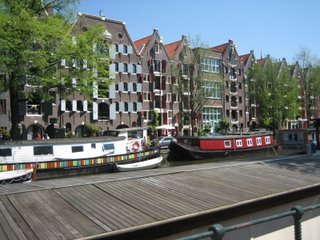 Amsterdam is on average 1.5 meters below sea level (the airport is 5m below) and has never flooded. It is laticed with more than a hundred canals, over a thousand locks and dikes that have held back the sea for hundreds of years.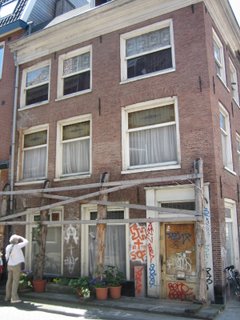 But some of the buildings have settled and have to be propped up if they're leaning. Some of them tilt dramatically.
I feel like I am re-encountering my birthplace from behind. New York was New Amsterdam and I can feel the origins of its urban culture and architectural grandeur in the streets of Amsterdam.
The Van Gogh Museum was one of my most coveted destinations and it did not disappoint. In the lobby a quartet was playing a Dutch version of Hank Williams'
Cold Cold Heart
as we walked in, and they continued with a gentle repertoire of country and folk music. The exhibit upstairs was small, the Van Gogh family's collection of around 70 of Vincent's paintings. I was thinking of the consonances between the works of Bob Dylan and Vincent Van Gogh as I walked around. They both broke the mold, they both crafted their work out of inference and references that embodied their images. The portrait of Vincent by Gauguin was there as was Van Gogh's canvas of Gauguin's Chair, the emptiness of which almost echoed with sobs.
In the exhibit you're so aware of light and shadow and brushstroke, how a drip of multiple colors from the same paintbrush defined the grain in the trunk of the
Small Pear Tree in Blossom
. Vincent. You were here, you are here.
Strains of
Don't Think Twice, It's All Right
filter in from the combo downstairs in the lobby.
Don't think at all. That's all right too.