Friday, September 02, 2005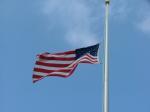 We returned to Beijing last Saturday from 3 weeks in the states, one of which was spent with Joseph's family in New Orleans and the Mississippi Gulf Coast. The region was in its glory, clean, fresh, alive, bustling, gorgeous, fragrant, its history shining, its future bright.
It's been high stress at our house from the horror of watching Katrina move in, to the short lived moment of relief that it hadn't hit N'awlins head-on, to the moment a doctor from Tulane University Medical School on Canal Boulevard late at night after the storm had passed, called CNN and reported by videophone that the water was rising at the rate of an inch every 5 minutes inside the hospital. She said there were waves coming down Canal Boulevard towards the river and there was a report of a levee breach. Joseph, who lived for 25 years in New Orleans, knew instantly what that meant, bellowed "go back!"
And then all hell broke loose.
More tomorrow.