Sunday, December 18, 2005
Those fun-lovin bikini-skiing Chinese girls!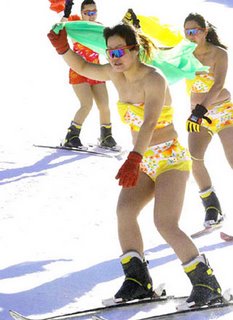 from People's Daily:
Professional women skiing performers, in bikini,demonstrate skiing skills at a ski resort in Jinan, east China's Shandong Province December 17, 2005. The temperature then was 5 degrees centigrade below zero. The activity was organized by the ski resort to attract customers. These performers come from Harbin, northeast China's Heilongjiang Province.
Not exactly what I'd call a bikini, but definitely-ah-cool.