Media Bar
Ellen Sander's
Classic Rock Readers
Kindle Editions:
Ellen Sander's Classic Rock Readers
A Good Read!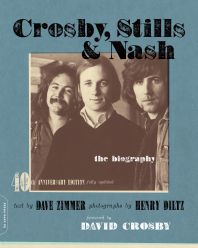 Click to read a sample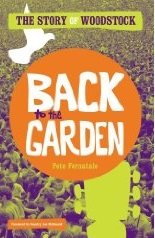 Back To The Garden
Good Deals!
Saturday, September 11, 2004
Remembering 9/11
I'm a native New Yorker and my entire immediate family lives there. You can imagine what went through my mind that day. My son, who lived closest to ground zero was in San Francisco that day and his call woke me with the news of the attack. I'd lived in California, by the sea, for a long time when New York and The Pentagon were struck on 9/11/2001.
My mood is pensive, sad and restless today and I reach for the sea, for the solace it has always brought me. I'm not close to the sea here in Beijing, yet the many years I've spent letting the waves and the tides, both symbolic and oceanic, guide, heal and inspire me, bring the sea and my soul together this afternoon as I write.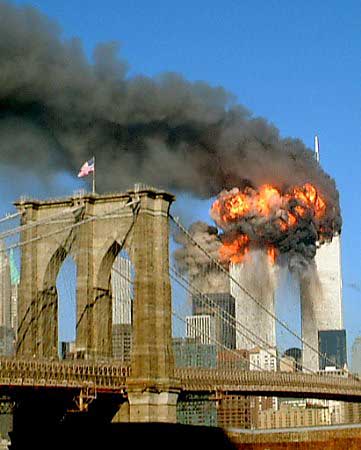 Sometimes a piece of writing is so skillfully moving that it carries you on its cadence and transports you beyond its subject to the heart of the matter. There will be many articles about 9/11, some angry, some analytical, some cautionary-- but this one's poignancy is, to me, representative of the best of what good writing can evoke.
Sept. 11, Yet Nothing Stops the Tides
from the New York Times



By DAN BARRY

Published: September 11, 2004


NEW YORK has its ends of the earth, odd little places so psychically removed from the rest of the city that they barely heed the urban scat. Places like City Island, that Bronx curio of a community lingering like an afterthought in the chop and sway of the Long Island Sound.

And within these odd little places like City Island, there are odder, littler places still, so self-contained that they could just as well exist in Oregon or Maine. Places like Barron's Boat Yard, a scrappy marina where the rhythms of the tide matter more than the schedules of any city bus.

Even so, the denizens of Barron's marina still follow the New York clock. They know that it is the second week in September, when the final exhalations of southern storms create weather that matches the city's mood: one minute sunny bright, the next minute dark gray, as though neither the sky above nor the people below know whether to smile or to cry.

If you think about it too much, a kind of paralysis threatens to set in. You can stand at the boatyard's pier, under uncertain skies, and feel the tug of melancholy so easily found at water's edge. The clang of wind-whipped rope against the mast. The twirl of arrow-shaped weather vanes. The sight of Hart Island a half-mile away, where inmates of this city bury its unclaimed dead.

Or you can think about it in the manner of the marina's owner, John Barron. Honor that September day by living in this September day. Push your wheelbarrow. Protect your customers' boats. Repair your sea wall. Get through it, in part by finding reassurance rather than sorrow in the lapping waters before you.

"I find it soothing," he says.

Mr. Barron, a City Island native, looks the part of marina operator, with an oil-stained cap pulled low on his head, a slight limp in his walk and a leathery wear to his face that suggests 55 years spent on or near the water. His father opened this boatyard in 1934, and now he finds himself relying more and more on his own son, Jason, to keep things running.

Sitting in his glorified shack of an office the other day, musing about September in New York, Mr. Barron explained that other matters vie for his attention. "Look at this," he said, brandishing a printout of a map that showed Hurricane Ivan engulfing Jamaica and moving toward Florida.

With Charley, then Frances and now Ivan roiling the waters, Mr. Barron said he felt acute responsibility for the dozens of boats entrusted to him by customers, boats that are bucking like mustangs just off his pier. Word is, three boats on the other side of the island broke free of their bridles.

He also feels the pressure of his other duties: ferrying customers to and from their boats, shoring up that sea wall, and - well, just look around the boatyard, cluttered with dry-docked boats needing attention. More than enough to occupy the mind, he said. More than enough.

BUT it is the second week in September, the third anniversary, and remote City Island is still New York City. As with any of us, Mr. Barron has his story: of hauling in a boat when word came; of taking his own boat to see for himself, but turning back at the sight of the rising dark plume ("Too sad"); of the stricken City Island faces; of the familiar names among those of the missing, including that of Chris Kirby, his son's close friend, a carpenter, 21.

With Chris Kirby gazing down from a memorial card tacked to the wall of his shack office, Mr. Barron explained again his approach to this awkward moment on the city calendar. "You can honor the fallen by fulfilling your role in society," he said. Work hard, but remember to pause before the water.

This morning on City Island, known to itself as the Seaport of the Bronx, the Torah study group will resume at Temple Beth-El. Throughout the day, people will be dining at the Crab Shanty, the Lobster Box and Sammy's Fish Box. Tonight means karaoke at one of the local yacht clubs. High tide will be at 10:31 in the morning, and then again at 10:43 at night.

At Barron's Boat Yard, Jason Barron will be working all day, but he expects to see his girlfriend, Annie Mataraza, tonight. They met nearly three years ago at a candlelight vigil for their mutual friend, Chris.

As for the owner, he is gone. Seeing opportunity in the good weekend weather reports, John Barron sailed away from the city on Friday, borne by the waters that soothe him.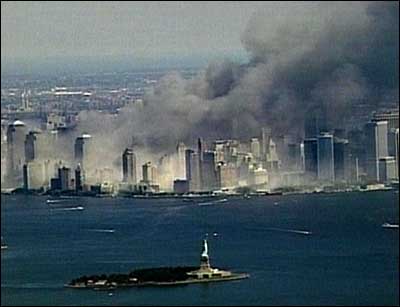 Manhattan in the aftermath, the Statue of Liberty in the foreground
An archive of articles and multimedia features about 9/11 and its aftermath.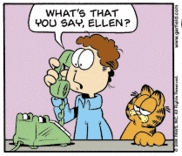 Mainer, New Yawka, Beijinger, Californian, points between. News, views and ballyhoos that piqued my interest and caused me to sigh, cry, chuckle, groan or throw something.
Previous Posts
Bush Makes Dictionary? So did I.
---
Angry Chinese Blogger weighs in On Bosco Smear
---
Smear campaign against my husband Joseph Bosco
---
A lot of ink on DINKs in China-Shanghai decides no...
---
PLA Surrender English
---
"Space Vegetables" take root in China
---
Hero Movie Tops Second Big (but low) Weekend in U.S.
---
City planning blamed for Beijing's extreme weather
---
Update - Arnie at the RNC-memory cramp or B.S.?
---
Crackpot Potshots - NY Times on the RNC
---

Terror Alert Status

---
Links
Baseball Crank
This Modern World
The Peking Duck
The Talent Show
ESWN
Simon World
Angry Chinese Blogger
Angry Chinese Blogger mirror
Open Letters to GWB
Archives
Web Gizmo
Technorati Profile
Site Feed

Search
&nbsp