Thursday, September 09, 2004
Bush Makes the Dictionary
Thu Sep 9, 8:57 AM ET Oddly Enough - Reuters to My Yahoo!

LONDON (Reuters) - George W. Bush is mocked for strangling grammar. But he can hold his head up high in the new Oxford Dictionary of Quotations published on Thursday.
Yeah, really. We know where his head is holed up.
The U.S. President makes a respectable first appearance in one of the world's most famous reference books with his notorious "Axis of Evil" speech about Iran, Iraq and North Korea. Bush, long renowned for his malapropisms, has in the past offered such gems as misunderestimate, embetter and resignate.
Just so you know, I made the dictionary before Bush did. If you go to
Merriam Webster Online
and type the word "coo" into the Dictionary slot, you'll get a definition that cites a sentence of mine as a usage example. (It's also in the print edition.)
I'll put a screen grab of it up as soon as I can get Blogger to do that. Blogger's a bit constipated at the moment.
....later
OK, here it is.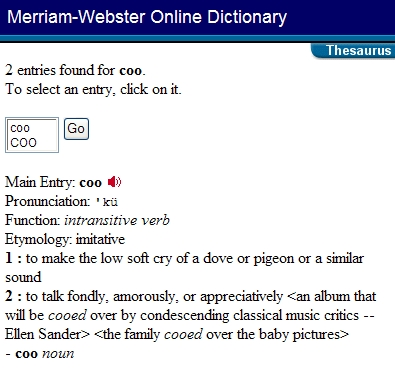 But you should go on over to
Merriam Webster Online
anyway; its a useful and free resource. And for you folks out there learning English (I know you're there) you can click on the little megaphone and you'll hear the pronunciation.