Thursday, January 17, 2008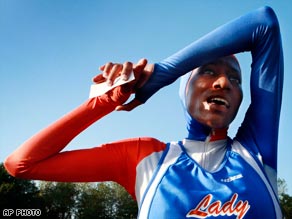 Juashaunna Kelly
, a senior at the District of Columbia's Theodore Roosevelt High School has the fastest mile and 2-mile times of any girl runner in that city this winter.
RISE Magazine
chose her as its 2007-08 Washington D.C. Girls' Cross Country Runner of the Year. But she was disqualified from an indoor track and field meet this weekend because officials said the hood and the unitard she wears under her team uniform to conform to her Muslim faith violates competition rules. The unitard to cover her arms and legs is the same color as her team uniform. She has competed in that same outfit for 3 seasons. There are no other meets scheduled that would allow her to qualify for for the New Balance Collegiate Invitational in New York on Feb. 8-9, which attracts dozens of college recruiters.
So much for our free and open society being the reason Muslim extremists despise us. This is a canard and the Muslim media is citing it as an example of Islamaphobia. Personally, I'm not so sure it isn't.
I hope for and expect a reconsideration of this stupid ruling in time for this remarkable young American athlete to compete this weekend in our
great
nation's capital.