Wednesday, January 19, 2005
UPDATE
: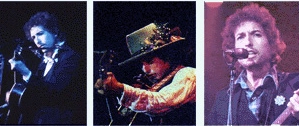 Last night's special-for-me broadcast of "Highway 61: the Dylan Hours," the show on
WERU-FM
from Bangor and Blue Hill, Maine has already aired and thank you staff, managers and DJ Charlie DuFour for this great pleasure. Some hightlights: ironic Dylanesque "Inagural Moments," hearing Memphis Blues (Again), something I've been aching for, and Don McLean's chilling version of "Masters of War," which I didn't even know existed.
Thanks to the internet and the magic of streaming audio, this international event, spanning four continents was truly a program for the heart and soul Dylan fans. The stream, except for a few blips, stayed strong for the entire two hours. I got email from Canada, L.A. and southern China during or right after the show from people listening with us. DuFour played all my requests, sent out some dedications from me and his collection of obscure Dylan tracks is a true treasure.
He does it every Thursday night, so listen in at 10PM U.S. Eastern Time --- and check out the other extroardinary alternative programming on WERU-FM as well. You can email him your own requests as well. Great show, Charlie. Many thanks. I remember who I am now.
Last but not least, thank you Brad Williams for making this all happen! And thanks, Bob, if you're reading this. (wink)