Tuesday, November 16, 2004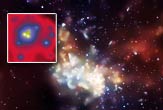 No matter how dire things sometimes seem on terra firma, to the vast panarama we rotate within, it's just another speck in the whirlwind of time.
Surprising Second Black Hole Found in Milky Way's Center

By Robert Roy Britt Senior Science Writer
posted: 15 November 200406:23 am ET
Astronomers
think they have found a rare if not unique black hole very near the center of the Milky Way. That would make two of the beasts in that part of the galaxy.

...snip

Black holes can't be seen, because everything that falls into them, including light, is trapped. But the swift motions of gas and stars near an otherwise invisible object allows astronomers to calculate that it's a black hole and even to estimate its mass.


If the newfound object, catalogued as GCIRS 13E, is indeed a middleweight black hole, it is likely a rare variety, perhaps one of kind, that formed farther out and has been lured to the galactic center.