Media Bar
Ellen Sander's
Classic Rock Readers
Kindle Editions:
Ellen Sander's Classic Rock Readers
A Good Read!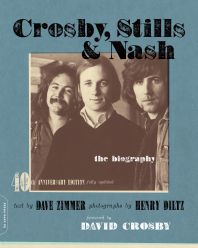 Click to read a sample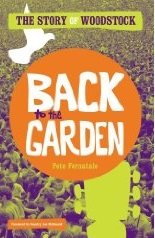 Back To The Garden
Good Deals!
Sunday, October 17, 2004
Miss T*b*t
Tibetan people posess a radient ethnic beauty, not just of appearance, but demeanor, grace, gentility, an extroverted, mischevious nature. The people from the roof of the world now have a three year old controversial beauty pageant, which has made international news. This lovely or anti-traditional news, however you look at it, lives behind the veil of censorship that is part of everyday Chinese life. Tibetan or Tibetan-advocacy websites are blocked in China and so are any headlines containing the word Tibet, if you search for them on the internet. I couldn't even find a picture of Miss Tibet because every site that had one was blocked. [update] I asked an American friend to find one for me and email it, so here she is: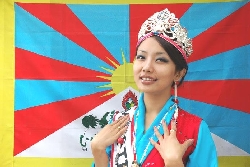 The contest is as much about politics, some say, as beauty. It certainly is. The organizer himself makes no bones about the political insinuations. Everything is political in China. And outside: in one of the articles below, Tibetan exiles express explicit political sentiments -- such as those offensive to the Chinese government --- while the a spokesman for the exiled Dalai Lama intimates that the Miss Tibet pageant is a free enterprise that has nothing to do with HH.
Split over Tibetan beauty pageant
Critics of the Miss Tibet contest see it as a cultural betrayal


October 12, 2004
by Vanessa Walker


It must be one of the strangest beauty pageants in the world. The people are living in exile, the monk-Prime Minister vehemently disapproves and the swimsuit round is held at a secret location. Welcome to Miss Tibet, a beauty contest so controversial that last year only one contestant was brave enough to enter.

Now in its third year, the pageant has split the Himalayan town of Dharamsala, home of the Dalai Lama and the centre of the Tibetan community-in-exile. In the weeks leading up to Sunday's final, posters demanding Tibetans boycott the show have covered billboards.

Opponents claim it is offensive to Tibet's Buddhist culture. They also accuse the organiser of mimicking the worst of Western ideals and humiliating Tibetan women.

In internet chat rooms, monasteries and cafes throughout the Tibetan diaspora, passionate arguments have been raging about the virtue or otherwise of beauty contests. The opposing sides are prominently represented in Dharamsala, a town of 23,000.

In one camp is Miss Tibet creator Lobsang Wangyal. A flamboyant organiser of dance parties, he passes for the town's only spin-meister.

He says the aim of the contest is to bring international attention to the plight of the Tibetan people, now in their 45th year of exile from Chinese-occupied Tibet.

"When one reads the words Miss Tibet, Tibet is thought of as a separate entity and not part of China," he says.

"Miss Tibet is a positive thing for Tibet. Any coverage of Tibet is beneficial."

He also says the contest, which had five contestants this year, is a much-needed foray into modernity for Tibetan culture and an "empowering advance" for Tibetan women.

The most outspoken critic of the contest is Samdhong Rinpoche, the scholar-monk who is the Tibetans' first Prime Minister-in-exile. He says that the pageant damages the case for Tibet.

"Tibet is respected because of its spirituality and its cultural traditions in the world. The Tibetan cause stands on that basis," he says.

"Just imitating Western culture will never help the Tibetan cause -- it will always damage the Tibetan cause."

He rejected beauty contests as anathema to the Buddhist view. "We are firm believers in the fact that the body is the home of the conscience," he said. "Beauty is skin-deep and there can be no such contest of individuals wherein inner virtues could be put to the test."

Given how divisive the issue is, the five women who entered were both brave and ambitious. One, Kelsang Dickey, was so determined to compete that she escaped from Tibet, trudging through the snowy Himalayas in freezing rains and hiding to avoid Chinese police.

But it was a computer engineer born in exile, Tashi Yangchen, who won the crown and the 100,000 rupees ($3100) first prize. She pledged to bring international attention to Tibet, but admitted it would be difficult.

Miss Tibet cannot yet enter Miss World or Miss Universe; instead she is relegated to second-tier beauty pageants such as Miss International Tourism.

The other winner was Mr. Wangyal. The competition drew capacity crowds of about 2500 people. A candlelight vigil held the same night to protest against the imminent execution of a renowned lama in Tibet named Tulku Tenzin Delek drew 250.

That's modernity.
also see
http://www.blogger.com/app/www.misstibet.com
(blocked in China)
and
http://www.tibet.ca/wtnarchive/2002/8/10_8.html
(also blocked in China)
Another story, from
The Guardian
I love this headline:
Miss Tibet Generates Lively Yak Among Exiles
10/3/2002
The main topic for discussion among Tibetan exiles is no longer the recent thaw between the Dalai Lama and China, but next week's first Miss Tibet beauty
pageant.

One critic says it is "ill-timed, undesirable [and] uncalled for". Others insist that the event is a great step forward for a country that effectively vanished 50 years ago. Either way, the main topic for discussion among Tibetan exiles is no longer the recent thaw between the Dalai Lama and China, but next week's first Miss Tibet beauty pageant.

The event is being held in the north Indian town of Dharamsala, home to the Dalai Lama and Tibet's government in exile. The winner will be named next Sunday after a
closed-door swimsuit round and a public question and answer session. But the event is as much about politics as beauty.

Organisers say they hope that the participants will draw international attention to the continued plight of Tibetans living under Chinese occupation. The normally conservative Tibet Women's Associa tion has given its blessing to the event, with the motto "Women with wisdom from the roof of the world".

"As long as it is handled properly, I see nothing negative in it," Dolma Gyari, the female deputy speaker of Tibet's exiled parliament told the Guardian yesterday. "The only thing that surprises me is that none of the judges appear to be Tibetan."

But some Tibetans have described it as immoral, "un-Tibetan" and "un-Buddhist".

The competition's organiser, Lobsang Wangyal, has dismissed them as short-sighted. Young Tibetan women were not just interested in traditional culture, but in a full range of experiences, he said.

"There is a tendency for Tibetans to be only seen as a people in struggle against the
Chinese, as a culture predominantly made up of Buddhist monks and nuns, as nomads who herd yaks," he said. Some 120,000 Tibetans had fled since 1959 and were building successful lives abroad, he said.

But critics have pointed out that 90% of Tibetan women still live in Tibet, and are therefore unable to take part.

"Miss Tibet is another way of saying Free Tibet," said Tenzin Deki, a student whose photograph appears on the competition's website, www.misstibet.com

Last night a spokesman for the Dalai Lama's office distanced the political and spiritual leader from the event. "It is a private enterprise. We have nothing to do with it," he said.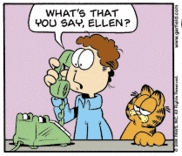 Mainer, New Yawka, Beijinger, Californian, points between. News, views and ballyhoos that piqued my interest and caused me to sigh, cry, chuckle, groan or throw something.
Previous Posts
Divided We Fall
---
Abandoned Chinese twins with birth defects reunite...
---
Label redux, Bush an Idiot
---
Last Known User of Secret Chinese Women's Language...
---
Bush a Dope? Crackpot Headline Roundup
---
Bush's Notes
---
U.S. Judge Orders Release of Lennon FBI Files - he...
---
* 50 Ways to Live in China *
---
Spainards pist at cheap Chinese shoes torch wareho...
---
Tibetan Monk Shot in Qinghai
---

Terror Alert Status

---
Links
Baseball Crank
This Modern World
The Peking Duck
The Talent Show
ESWN
Simon World
Angry Chinese Blogger
Angry Chinese Blogger mirror
Open Letters to GWB
Archives
Web Gizmo
Technorati Profile
Site Feed

Search
&nbsp