Wednesday, August 20, 2008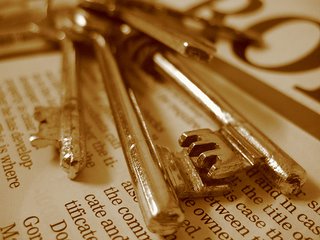 I got out of the car in the supermarket parking lot, habitually clipped my key-ring to my fashion backpack and breezed through the sunshine toward the doors. All of a sudden, I felt a curious little tap on my derriere and turned around.
On the ground was my key-ring; I hadn't snapped it properly on. As I picked it up, I thought how nice it was for my keys to potch me on their way down, I surely didn't hear them fall. How lucky for me. I must have an angel on my shoulder. Another moment of gratitude for small things, a small thing that could have turned into a world of hassle, but didn't.
Not to waste the moment: gratitude for the car, the market, the pretty backpack, the shoes, the sunshine and the rain. For health and wealth and love, for Cable TV, cappuccino and a scenic second story window to look out of while I write. For work and friends and loving family, for freedom from worry and pain, even if just for this moment. There is nothing but this moment. And that's the key.
Last Thursday I was so preoccupied that I not only left the keys in the car, I left the car running. In Venice Beach, where I used to live, that car wouldn't have lasted 72 seconds. When I got back from my errand, there was my fine old Dolly, grumbling at me. Or was she chuckling? After my chagrin at how inattentive I was, I counted yet one more blessing. I find my self under a benign protection from the elements, from the slings and arrows, and, most importantly, from myself.
Home again. I unpack the luscious groceries. Everything is new. The keys are in my pocket, I take them out and place them into their home at home, in a precious small bowl my mother made that sits on a quirky red jelly cabinet near the door.
A squirrel darts across the driveway.
A hummingbird comes to the window.
The key glows in my mind.